~BABES BLU AMBROSE aka ROXY~
►Price: $5000 open ($6500 in foal to SWISHER HANCOCK)◄

AQHA #5597997
May 27, 2014
Blue Roan
Height 16.2hh
ROXILLA is absolutely the most stunning mare I have ever seen! We knew this one had that "WOW" factor from the first time we viewed her at 2wks old. We acquired her dam "JUNEBUG" with her on momma's side. ROXY has an incredible amount of bone (way above average), but don't let that fool you she also has breakaway speed! If you are looking for a horse that will make you look tiny in the saddle and that has the power to get 'er done and travel, here she is!! I do not recommend her for barrels as that is a very high stress career! With her size, she would be a handful cracked out!

I never intended to place ROXILLA up, but after spending years with her, we just do not think she needs to go into our broodmare band at this time. ROXILLA is still immature and due to her size may accidently hurt her foal, not meaning to. We did not breed her as a 4yr old due to this. At 5yr and into her 6th yr, we did AI her several times, but due to a issue not her fault, she did not take. It wasn't until late 2020 we figure out why she wasn't conceiving, fixed the issue and gave it one good unsuccessful try, by then it was to late in the season to try again. So, she really has not had a good breeding season under her belt and is still a maiden. ROXY has an emmense amount of energy and would do so much better as someones ride. We are looking for a approved home for her that will use her, she has a lot to offer with her huge size, power, presence and speed.

We never put ROXY under saddle, just got to busy with showing our boys and focused on getting our younger SWISHER sons broke to ride. ROXILLA needs a experienced horseman or women, do not contact me about her unless you are very secure about your ability to guide this girl with your leadership and confidence, otherwise her 1500lb presence and height will overwhelm you when she gets worked up! She will not make a good live cover canidate, she will injury your stallion! We know this because we have tried and it was not a fun site to observe if you value your studs balls! Her kick is powerful and has a long reach. I would prefer to find ROXILLA a working home, but I am not leaving her open either. So, pulling a culture 1st chance we get and then in a couple months moving forward with breeding her. If we do get her in foal, chances are we will re-consider letting her go.

I measured ROXILLA last summer with a tape measurer and got 16.3hh twice in the breeding stocks. I measured her again today but used a clothes cloth tape, Feb 20th 2021 and got a tad under 16.2hh. I am going to try a different measuring device and re-measure her next time she goes to the stocks. She is so much taller then our 16.1hh mares, I just don't feel like I got a true reading today.
~Roxy's FaceBook Photo Album~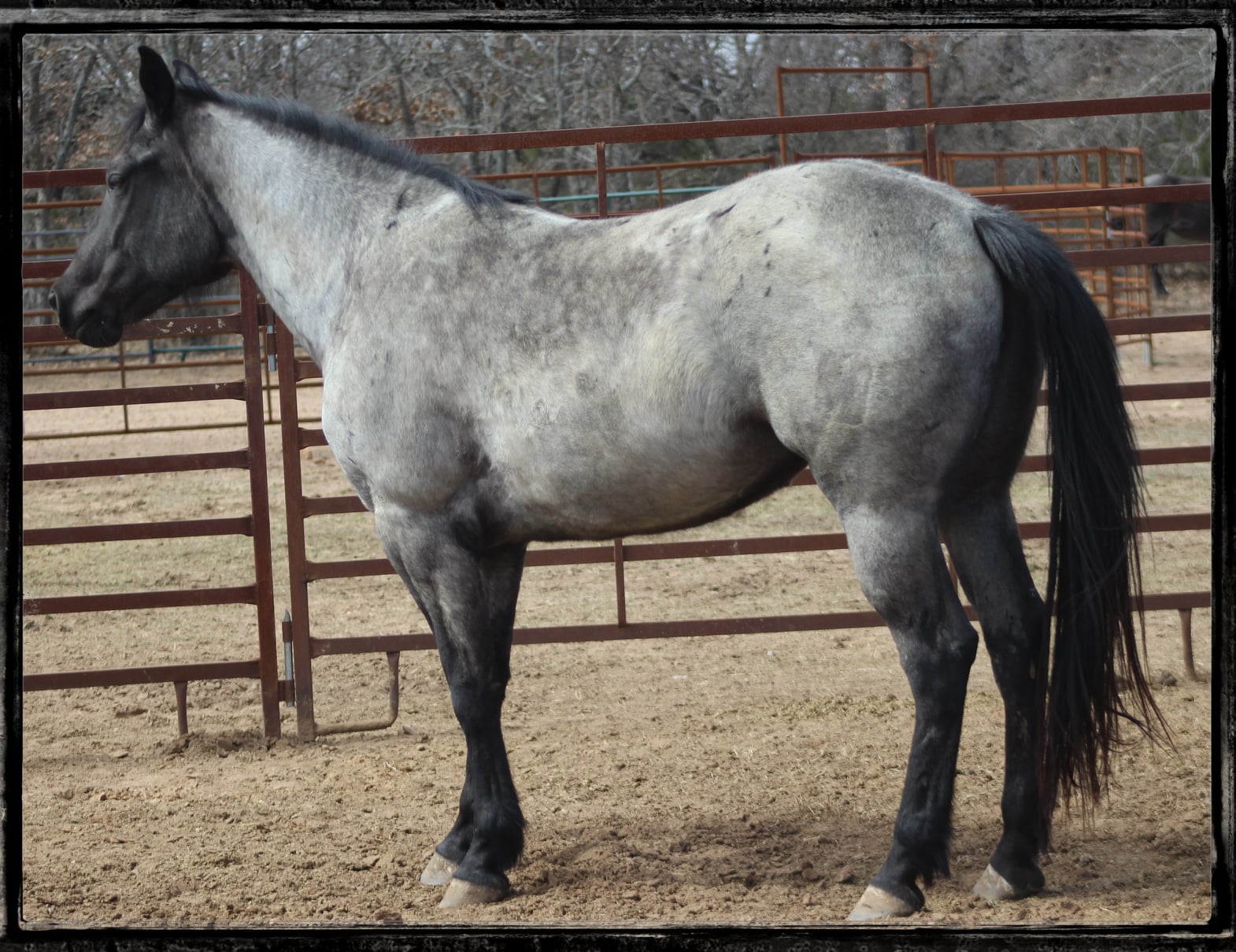 4yrs old, 2018
Copyright Photo: Sunday Blue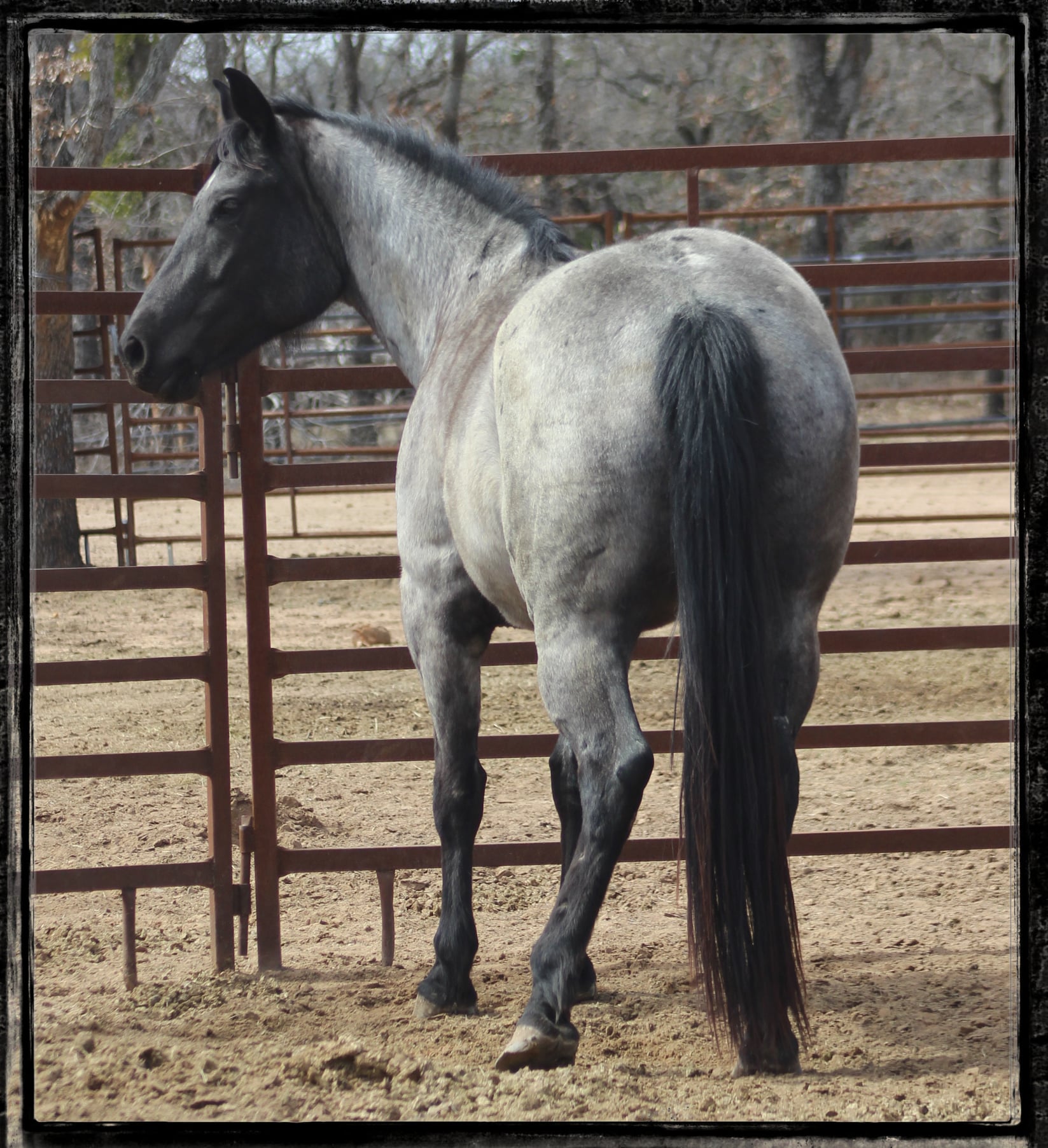 4yrs old, 2018
Copyright Photo: Sunday Blue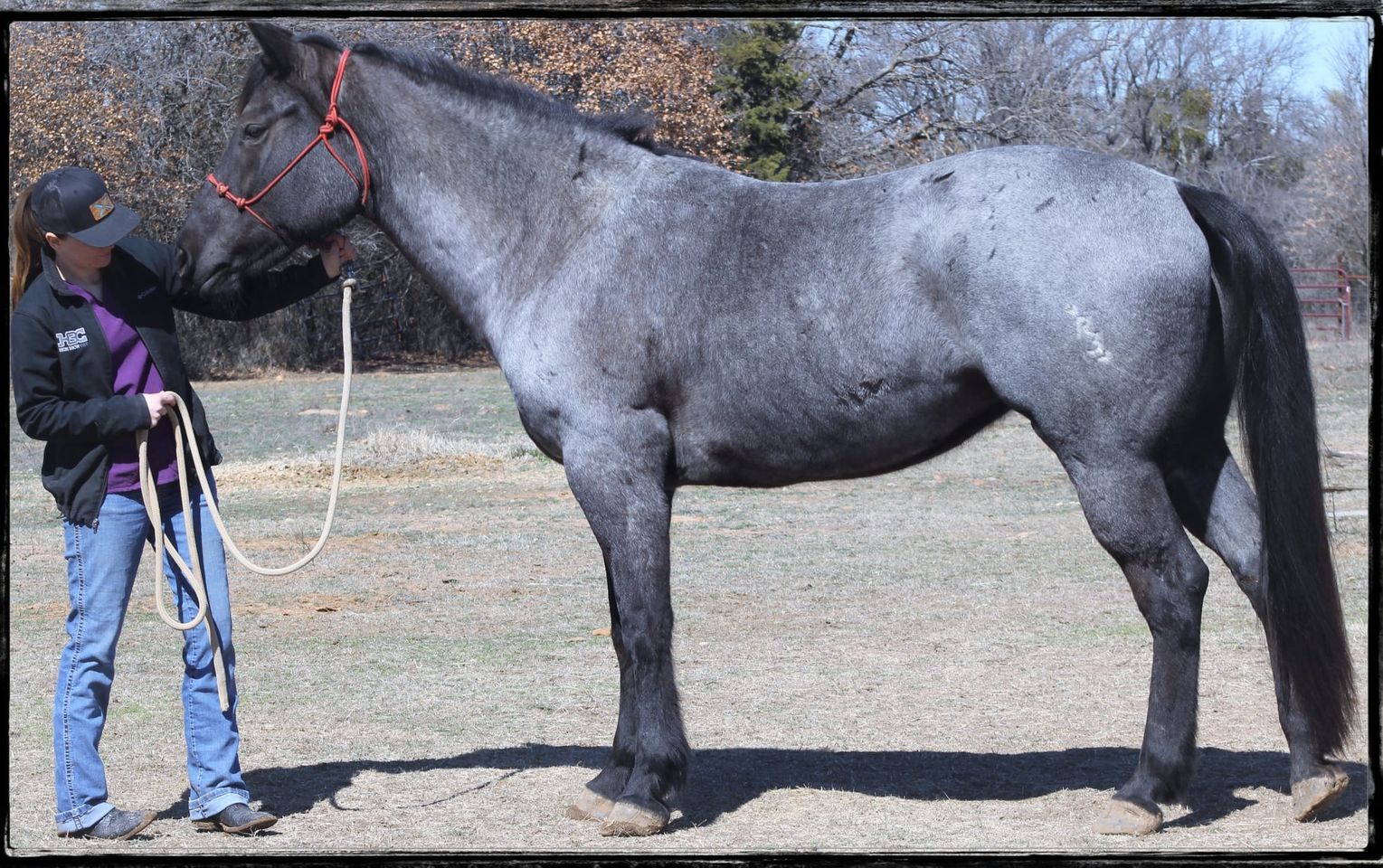 Copyright Photo: Sunday Blue
Feb 20th 2021, 6 1/2yrs old.

~Click Here for Roxy's Extended Pedigree~
Open for 2021
Swisher Hancock
For a 202? guaranteed
50% Blue Roan or 50% Brown Roan Foal
Due Date xx
Plenty Blueberry 1991
3063948 Blue Roan

Plenty Try 1982
1894414 Blue Roan

Plentyberry Ambrose 2009
5304364 Blue Roan

Blue Kewpie Doll 1972
0859734 Blue Roan

Miss Roan Ambrose 2001
4075964 Blue Roan

Roan Ambrose 1978
1432521 Red Roan

Babes Blu Ambrose 2014
5597997 Blue Roan

Miss Apache Jackie 1992
3108549 Red Roan

KT Dusty Blue Hancock 2001
4034610 Blue Roan

Luckies Blue Hancock 1996
3504926 Blue Roan

Blu Blue Babe 2006
4841599 Blue Roan

Salmon River Concho 1998
3717578 Red Roan

Babes Blue 2002
4320302 Grulla

Babes Blue Valentine 1999
3841335 Bay Roan

Dun Maid Hancock 1995
3393127 Dun

Plentyberry Ambrose Daughter
28.91% Blue Valentine
25% Plenty Blueberry
15.63% Blue Kewpie Doll (full sibling to: Blues Beard and Blues Kingfisher.
All 3 are sons or daughters of Blue Valentine)
15.63% Red Man
15.13% Joe Hancock
12.5% Rowdy Blue Man
12.5% Plenty Try
12.5% Roan Ambrose
12.5% Babes Blue Valentine
10.16% Hancocks Double
9.38% Gooseberry
Others: War Chief, War Train, Driftwood, WYO Kid Curry, Rip Rip, Leo

Quick Notes:
Height: 16.2hh
Weight: Pushing 1500lbs White Markings: Star
DOB May 27th 2014
Color: Blue Roan
Color Test Results: EE (homozygous black), Rn/N (heterozygous roan)


Roxy's Sire
~Plentyberry Ambrose~
Plentyberry Ambrose's FaceBook Photo Album, 12 photos!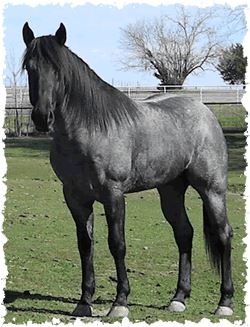 Copyright Photo: Y Bar D QH's