~VOODOO~
Shetland Pony
DOB 2014
Silver Black Roan
Height 10.3hh (43 inches tall)
As soon as we learned TENNESSEE was pregnant (winter of 2021), we all began looking for a pony. In May 2021 we found VOODOO. She is a safe, bomb proof childs pony which we just could not pass up on. Our plans with her are to temporarily place her into our brood mare band and let her earn her keep while unborn baby TRIPP gets his first few years worth of age on him. TENN plans on keeping her in tune by offering limited riding lessons on her for her younger children cliental. TRIPP can start on VOODOO 1st then step up with a son out of her by SWISHER HANCOCK on down the road. So in the meantime, VOODOO's up n' coming get will be for sale through maybe 2024. I will get them registered through the Quarter Pony Registery.

Update 06/14/2021: Well, our new pony is a SILVER BLACK ROAN. Best I can figure is the visual will be present in the mane and tail, not so much the coat. Also, on red based offspring you will not be able to tell if the silver is present or not, just in our case bred to SWISHER brown and black roans. Also, learned only called a silver black roan if there is silver, otherwise called blue roan.
~VOODOO's FaceBook Photo Album~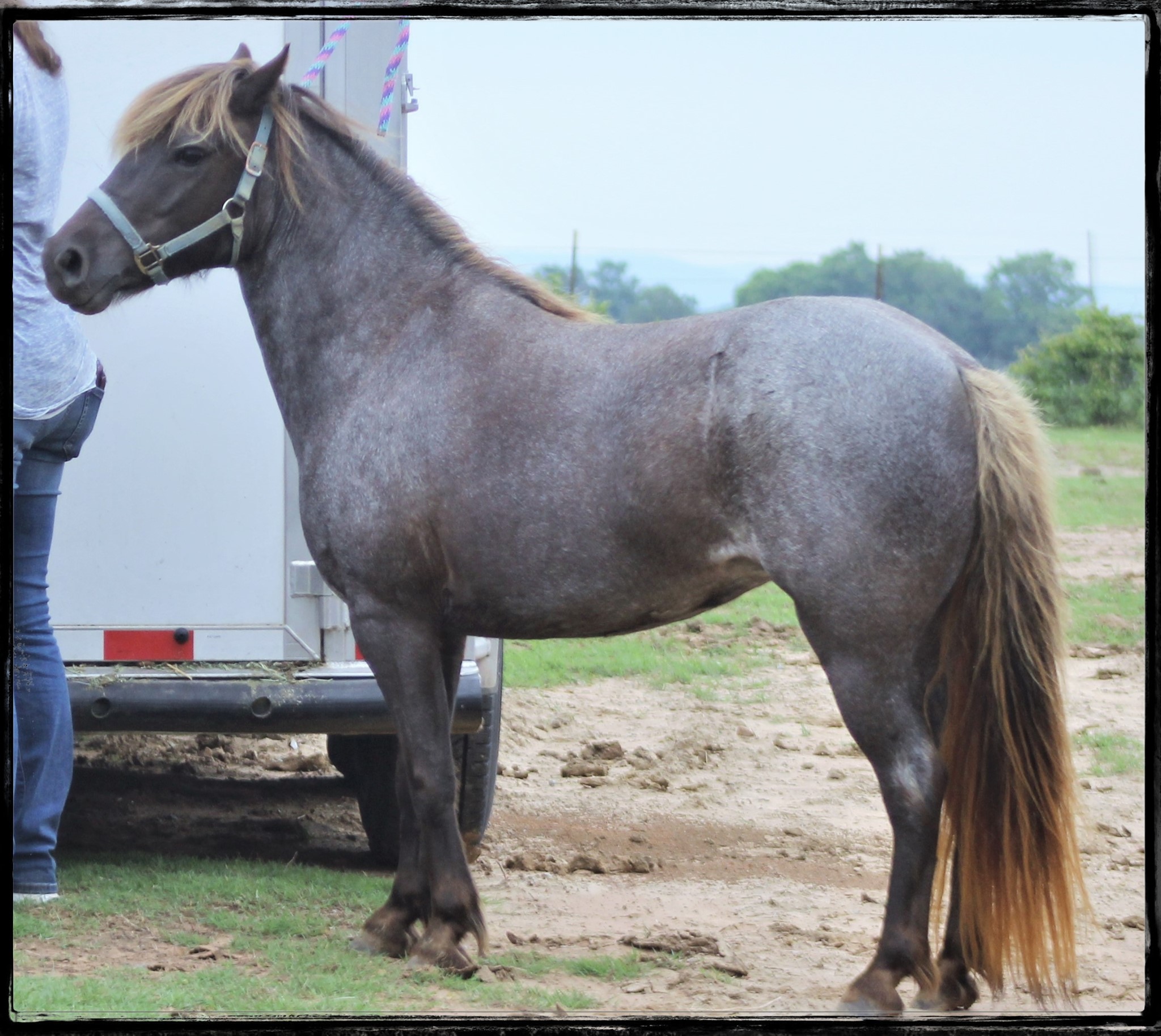 7yrs old, May 2021
Copyright Photo: Sunday Blue

Hoping to Confirmed in Foal to Swisher Hancock soon for a 20xx guaranteed

25.00% - Red Roan
18.75% - Blue Roan
18.75% - Brown Roan
18.75% - Silver Black Roan
18.75% - Silver Brown Roan
Quick Notes:
Height: 10.3hh (43 inches)
Weight: 600lbs White Markings: Star
DOB: 2014
Color Test Results: aa, Ee, nZ
Genetic Panel Results: NN Across the Board