~CONGRATS! to MICHAEL BOLLEN from TEXAS~
C Joes Dividend aka Ariel
►Update 06/15/2017 - Price Reduced: From $2650 to $2200!◄

AQHA #5756802
DOB 04/01/2016
Brown Roan Filly
~Click here for Ariel's Age Progressive Face Book Photo Album!~

11 months old
Copyright Photo: Sunday Blue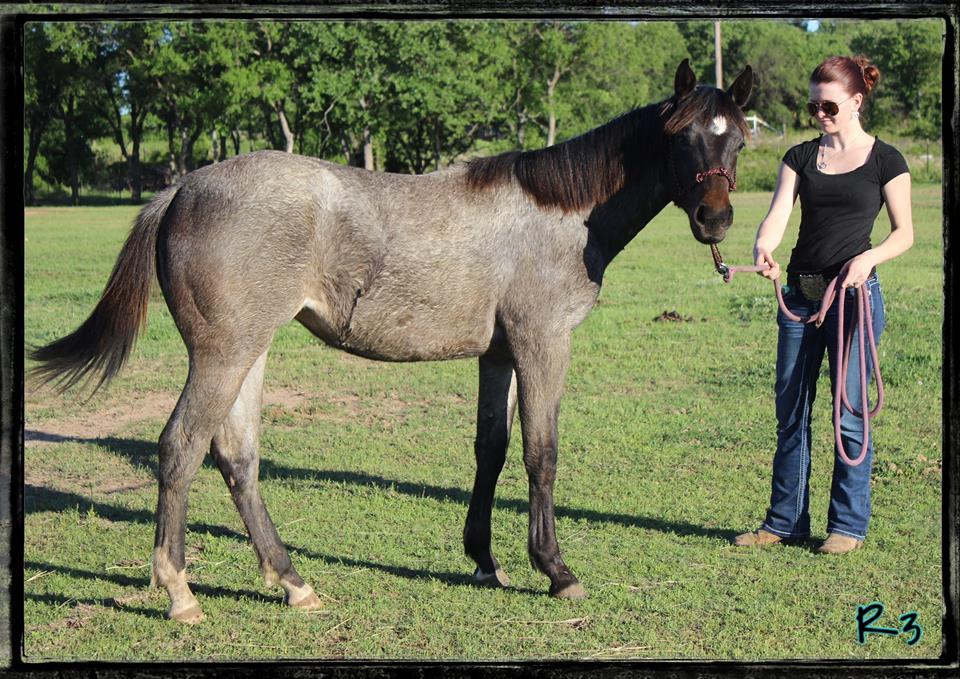 12 months old
Copyright Photo: Sunday Blue

Quick Notes:
Height Expectancy: 15.2hh
DOB: 04/01/2016
White Markings: Star and both back hocks, small place on front at the cornet band.





Josephs Dividend x TOS Little Luckie
25% Dividend Coup
25% Ten O Sea
25% Black Chick Gold
12.5% Gooseberry
12.5 % Plenty Try
12.5% Josephs Gold
12.% Docs Voyager
10.16% Doc Bar
Others: Blue Valentine, Joe Hancock, Three Bars, Poco Bueno, The Ole Man

~Click Here for Ariel's Extended Pedigree~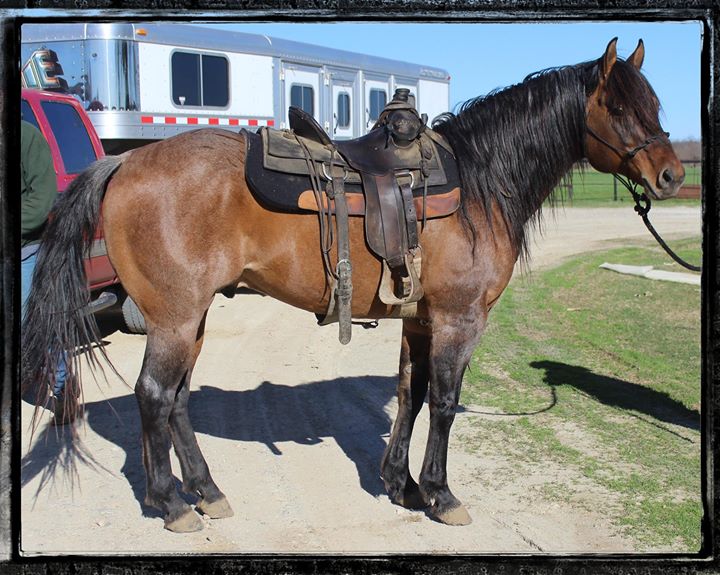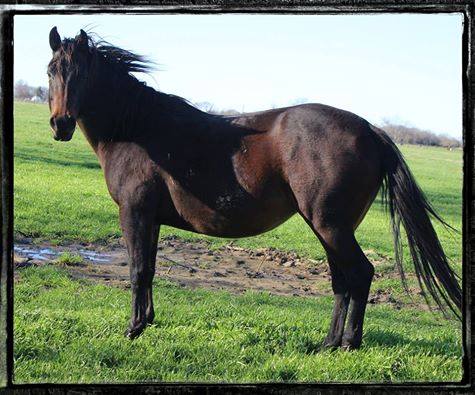 Ariel's Sire, "Josephs Dividend" / Ariel's Dam, "TOS Little Luckie"
Photo Copyrights: Sunday Blue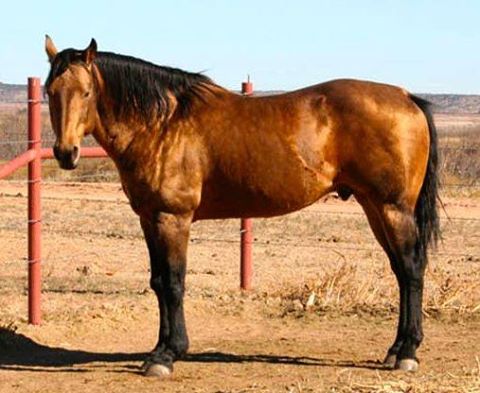 Ariel's Grandsire, "Ten O Sea"
Ten-O-Sea is the sire of "9", the horse Rich Skelton is currently riding. He also is the sire of Chili Dog, the horse that Rich rode to two of his World Championships. Ten-O-Sea is still owned by S- Quarter Horses, and is still active.

►Performance Offspring◄
BUCK O LENA GOLD (1994 Dun Mare)
DAM: COOKIE GOLD
🔹1998 OPEN RIDDEN IN HORSEBACK RIDING PROGRAM
🔹2001 AMETEUR PERFORMANCE REGISTER OF MERIT

SEVEN SEA GOLD (1994 Bay Gelding)
DAM: MISS SWENCEE GOLD
🔹OPEN QUALIFIED TEAM PENNING WORLD SHOW
🔹OPEN PERFORMANCE REGISTER OF MERIT

PETS TEN (1995 Chestnut Gelding)
DAM: ONE O THREE CHICK
🔹2003 - 2004 PRCA HEELING HORSE OF THE YEAR

TENS NINE ZERO (2000 Buckskin Gelding)
DAM: GOLD PERSONALITY
🔹2008 RCHA YEAR-END HIGH POINT
🔹2009 RHAA SENIOR CLASS RESERVE CHAMPION

A short artical about Bill Smith and Ten O Sea:
Today, the dramatic increase in popularity of ranch horse versatility competition has drawn some of the country's premier horses and their riders off the range and into the spotlight. Bill Smith, who operates the Espuela Cattle Co., from Spur, Texas, has won multiple Ranch Horse Association of America world championships with his hard working, homebred horses. But ask him to recall his most memorable ride, and you may be surprised that his answer doesn't have a winners' circle ending... no, just one cowboy mighty proud of his horse. Founded in 1883, in the early 1900s the Espuela Cattle Co. spanned four counties and covered more than a half-million fenced acres. While today some young upstarts might tease Bill Smith about witnessing its entire history, in truth, he has "only" lived and worked on the ranch for the past 40 years. Owners of the ranch call him their greatest asset. In 1986, Bill started a ranch horse breeding program at the ranch, with the purchase of a Four Sixes-bred stallion, Black Chick Gold by Black Chick 89 and out of Miss Eagle 95. Bill was pleased with the horses the stallion produced, particularly his daughters. About six years later, Bill went shopping for an outcross stallion for the Black Chick Gold mares. His search was over when he found a 2-year old, double-Doc Bar buckskin named Ten O Sea by Docs Voyager and out of Davie O Lena by Doc O'Lena. "I've raised horses all my life and admired Doc O'Lena," Bill said. "But in truth, I'm not a pedigree chaser. I really liked the colt's good bone, withers and movement. I don't raise for color, but you know it never hurts to have an eyecatching buckskin horse." When Bill took the colt home, the horse had perhaps a dozen rides on him. Bill found that the more he rode Ten O Sea, the more he liked the smooth moving youngster. He had a gentle nature, but lots of life. Bill brought the colt along slowly; in time, he roped off him and introduced him to long, dusty days on the range. "When he was 5 years old, I team roped on him," Bill said, "probably heeled more than headed." Meanwhile, the fancy colt was bred to daughters and granddaughters of Black Chick Gold with notable success. Thus far, his offspring have tallied 62 performance wins, 18 all-around championships and reserves, and two performance Registers of Merit; they've earned money in RHAA and the National Reining Horse and National Reined Cow Horse Associations. One son, Pets Ten, aka "Chili Dog," was twice the Professional Rodeo Cowboys Association Heeling Horse of the Year with Rich Skelton. Bill's most memorable ride on Ten O Sea came at the Texas Cowboy Reunion and Rodeo in Stamford, Texas. The first Stamford Rodeo was July 4, 1930. It was founded during the Great Depression as a morale booster and to celebrate the local ranch talent. It was a grand success from Day 1. In 1940, one of the first American Quarter Horse shows took place in conjunction with the Stamford Rodeo. Today, the tradition continues with a rodeo and parade that draw tens of thousands of visitors to revel in the heritage of West Texas and linger at the Cowboy Country Museum in the town square. A decade ago, Bill Smith and Ten O Sea were among the 15 or so invited to the ranch horse competition at the Stamford Rodeo. The stallion had been turned out with mares for most of June. So Bill gathered him up at the end of the month, rode him two or three times, and headed to Stamford. It was an especially hot July that year, with temperatures easily topping the century mark. First, they rode a reining pattern. Check. Next, they boxed a cow. Check. Then they had to pen a cow and rope it, all in eight minutes. "We drew a really tough, skinny calf and did the best we could," Bill recalled. "He was 600-700 pounds of mean and literally ran into my horse. He just would not get into the pen! We must've turned him 50 times, and still we didn't pen him. My horse was hot and wet, but he just kept on trying," Bill said. "And I wasn't smart enough to quit! Finally, the whistle blowed, and we were out, without penning that calf. But I cannot tell you how much I appreciated my horse at that moment. There wasn't an ounce of quit in Ten O Sea. He just kept on trying. For me, that's the mark of a champion." Bill competed with Ten O Sea for about a year, garnering an RHAA reserve world championship with him. Today, at 19, the stallion is retired from ranch work at the Spur. He's turned out with his broodmares from early April to mid- June, then he returns to a spacious grass trap, with horses and activity all around him. These days, Bill wins ranch horse competition with Ten O Sea's offspring, like the Working Ranch Cowboys Association's 2008 Top Working Ranch Horse Tens Nine Zero. But Bill has never been more proud of a horse than on one hot July day in Stamford, Texas, when a tough calf resisted and the whistle blew. That great ride remains a testament to ranch horse heart and staying power under the most inhospitable conditions. And for a rancher, it's all about try when there is no audience and no whistle; just a calf, a cowboy, a horse, and a job to be done.
~Click here to see a video of Ariel's dam's full sister "TOS Red Shine", a 1D Barrel Racer in Wyoming~